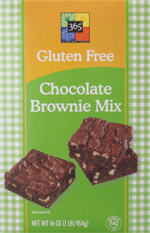 BS"D
Close, but different sounds to me like "separate but equal". The latter never really being so. I have begun to see that with gluten free baked goods, they are often close to "the real thing", but always a little different. As with kids with
celiac
or allergies, they are really regular, little kids with all the quirks that make them unique (and hopefully
adorable
) individuals. But, there is always that niggling little thing that makes them feel a
smidge
different. A "thing" which they must be aware and alert about at all times in order that they don't get violently sick. It's not easy, especially for the very little ones. But, every so often, there are people in their daily lives who get it, and go the extra mile to make them feel "normal".
Last Tuesday Lillie came home from camp very grouchy because Tuesday is cooking day for her group. They make nice things with simple recipes. They've made pretzels, knishes, and last week
rugelach
. As you may guess, all no-
nos
for Lillie. That Tuesday she was grousing because they ate the
rugelach
but the counselors didn't bring a snack for her. She wanted them to get her one, but that would require leaving the building where cooking took place, crossing a parking lot and large field to where their gear was kept. So she went without. Then she said one of the junior counselors took her to the art room while the other kids continued the cooking class. Lillie loves art. She doesn't seem to mind being different when the alternative to what she can't do is something she enjoys. Then this morning she told me her division head bought her something for cooking that she could make. "What", I said, "did you make it?" "No, I didn't feel like it", she answered. I felt bad that she didn't realize the division head had gone out of her way to make Lillie comfortable, but I was almost gleeful that this woman had really gone the extra mile for my daughter. I ran into her today and duly thanked her.
When I went to pick up Rosie from her little nursery camp, I saw one of the boys with an ice cream cone dripping strawberry ice cream. My chest tightened a bit and I tensed up. Her teacher does a theme for every week of camp, i.e., animal week,
mitzvah
week, watermelon week, etc. This week is ice cream week. When she told me that last week I figured I would have until Friday to figure out what I could do for Rosie to provide her with a non-dairy,
eggless
substitute. They have been making various ice cream themed projects, and I thought the
actually
ice cream wouldn't appear until the end of the week. I would ask the teacher if I could bring her
Tofutti
, or if she could provide ices for Rosie. But too late, I thought, as a gooey pink rivulet oozed down the little boy's hand. Then her enthusiastic teacher appeared before me rattling on how she had bought
Soy Dream
, and it was even Rosie's favorite flavor...strawberry. I breathed out a relieved sigh. How thoroughly thoughtful, and how lucky I am to have these considerate people in my life, I mused. Some days it is really hard, and some days it just isn't.
I decided to try making the simple recipes Lillie brings home from camp in gluten free versions. She made knishes one week and I felt it would be a challenge if I could create a gluten free version of the flaky, delicate dough that characterizes a knish. I have been using
Jules Gluten Free All-Purpose Flour
. It is a light, white flour blend with a "patented" ingredient called
Expandex
, which to me sounds like some sort of girdle from the 1950's, but is actually tapioca starch. It purportedly allows the gluten free flour to behave very much like wheat flour in baked goods. I have been putting the Jules
GFAPF
through its paces, with good results. However, with the knishes, I made the pastry dough and put it in the refrigerator for a couple of hours (as I would normally do with
glutteny
pastry dough), before rolling it out. When I took it out of the 'fridge it had the
consistency
of
flubber
. I had my gluten free baking a-ha moment. As, I think anyone who bakes gluten free will have eventually. It was that moment that I realized you cannot always treat gluten free dough like "regular" wheat flour dough. The
Expandex
had expanded and done its job a bit too well. What should have been delicate and flaky was, for want of a better word,
flubbery
! Nevertheless, I rolled it out and filled it with the very easy knish filling. I was motivated more by thrift than anything else. A five pound bag of Jules
GFAPF
is $19.99, and this recipe called for 4 2/3 cups of the stuff. When it came out of the oven I examined the golden loaf, then I tasted it. It was actually good. The dough was crusty, not flaky and delicate. But good in its own right. The end product was very tasty, and even more satisfying because it was so easy to make.
Kitchen Corner's Easy Knish Loaf

Note: These can be made into traditional individual knishes, or into one big loaf which is sliced before serving.
Dough:
4 2/3 cup Jules Gluten Free All-Purpose Flour*
4 teaspoons baking powder
1 1/2 cups water
1/2 cup oil
1/2 teaspoon salt
Filling:
Prepare 2 cups of instant mashed
potatoes
according to the directions on the box. Add 1 Tablespoon of instant onion soup or chicken consomme mix to the mixture.
Directions:
Mix the dough ingredients together until it forms a cohesive dough. Form into a ball and roll out thinly in a rectangular shape between two pieces of waxed paper. Put the mashed potatoes in the center of the dough. Fold the dough over to cover the
potatoes
, and pinch the edges
closed
. Note: If making individual knishes, slice dough into 4-inch squares, and fill with a dollop of potato filling.
Transfer the loaf to a cookie sheet sprayed with non-stick cooking spray. Bake at 425F degrees until the dough appears golden on top, about 20 minutes.
Note: You can brush the top of the dough with an egg wash for a shiny finish.
*Jules E. Shepard offers a homemade flour blend in her book,
Nearly Normal Cooking for Gluten-Free Eating,
if you don't have her prepared flour available. H I find her prepared mix convenient, as it is like having a 5 lb. bag of "regular" all-purpose flour in the kitchen! It is no more or less expensive than the brands available in the stores. Her flour blends are available online at www.julesglutenfree.com. Sometimes she has free shipping offers, so it's worthwhile getting on the mailing list.
All Purpose Nearly Normal Gluten-Free Flour Mix

tm
(p. xv)
Mix together:
1 cup white rice flour
1 cup potato starch
1 cup cornstarch
1/2 cup corn flour
1/2 cup tapioca flour
4 teaspoons
xanthan
gum