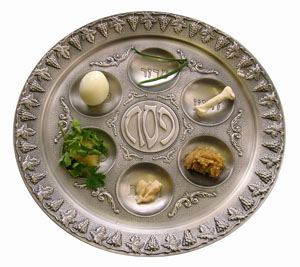 BS"D
So I am in the throes of Passover and Planning and Prep (P3), that puts so many
balabustas
in a tizzy on a yearly basis. I came across a very helpful book from my library to simplify my life,
The $5 Dinner Mom Cookbook.
The author, Erin Chase, writes a blog
www.5dollardinners.com
. Not all of the recipes are gluten free or kosher, but I happened upon several that are good, not only during Passover, but also in those hectic days beforehand. Some of the prices aren't in line with kosher items (like I pay $7.99 for skinless, boneless chicken breasts), but nevertheless, they are common ingredients and the dinners are just that--complete dinners--not just one dish. So, as I'm very busy, less writing and more recipes...here you go.
This appealed to me as a chol hamoed recipe, that is the days in between the first and last days of yomim tovim (celebratory days), when everyone is sick of meat, but no one knows what else to make. Any non-Passover ingredients have been omitted from the original recipes. To make egg free, whip together 1 heaping tablespoon potato or tapioca starch with 1/4 cup any type of milk. If dairy free on passover, there isn't a cheese substitute, but you can top with grilled veggies or sliced mushrooms.
The $5 Dinner Mom Cookbook by Erin Chase, p. 248
6 large white potatoes
2 eggs
1 Tablespoon potato starch or tapioca starch
1 cup tomato sauce, jarred or homemade
2 cups shredded mozzarella cheese
4 carrots
Pre-heat oven to 350 F degrees. Peel the potatoes and slice into quarters. Grate the potatoes in a food processor fitted with the grating blade. Place in a mixing bowl.
Beat the eggs and add to the grated potatoes in the bowl. Mix in the flour, salt, and pepper.
Spread the potato mixture in the bottom of an 8x8-inch baking dish. Bake for 30 minutes in the preheated oven, until the potatoes turn golden on top.
Remove the "potato crust" from the oven, and spread 1 cup of sauce over the potatoes. Sprinkle with the shredded cheese. Add any additional toppings you like, such as mushrooms, sliced peppers or olives.
Return the pizza to the oven and bake at 350 degrees for 15 minutes, or until the cheese has melted. Cut the potato pizza into squares for serving.
Peel and cut the carrots int sticks. Serve alongside pizza.
I thought this was a nice idea to my repertoire for yom tov meals. It's easy, filling and nutritious. You can substitute cubed chicken from any part of the chicken...it doesn't have to be a skinless breast.
Ginger-Sweet Potato Chicken Bake
The $5 Dinner Mom Cookbook by Erin Chase, p. 107
2 boneless, skinless chicken breast
2 sweet potatoes
1 can (8-ounces) pineapple tidbits, in 100 pineapple juice
2 teaspoons extra-virgin olive oil
1 tsp. ground ginger
1 tsp. garlic powder
1 tsp. ground cinnamon
salt and pepper
Dice the chicken breasts in 1/2 to 1-inch cubes.
Peel the sweet potatoes and cut into 1-inch cubes.
Drain the pineapple, reserving juice for another use.
Pre-heat oven to 250F degrees. In a 9x13-inch baking dish, combine the diced chicken breasts, sweet potatoes and pineapple. Add the extra-virgin olive oil,spices, and salt and pepper to taste. Gently toss the ingredients in the baking dish.
Bake the chicken and sweet potatoes in the preheated oven for 20 minutes, uncovered. Remove the dish from the oven, cover with aluminum foil, and bake another 30 to 40 minutes, or until the chicken has cooked through. (Covering the dish will prevent the sweet potatoes from drying out.)