BS"D
At this time of year, Rosh Hashanah, the New Year in the Jewish Calendar, we wish people a sweet, happy and above all a healthy new year. For those with IBS, Crohn's, Celiac and other stomach ailments, there is a daily challenge to all of these.
The specific-carbohydrate diet (SCD), designed by Elaine Gottschall, over 30 years ago, has brought relief, health and happiness to many.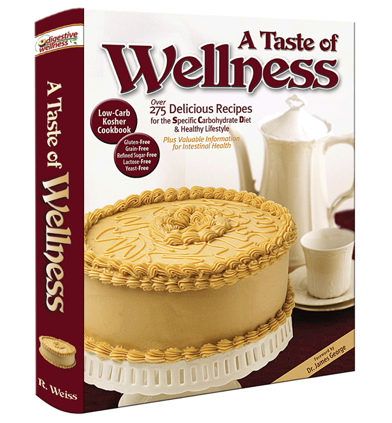 A former sufferer, Rochel Weiss, has embraced the SCD lifestyle to the extent that she developed a business around it (
www.digestivewellness.com
), and now a cookbook,
A Taste of Wellness,
in the hopes of helping others find relief in a tasty manner!
The book is expansive and literally includes everything from soup to nuts. Recipes range from everyday items like Cashew Bread, Spaghetti Squash Mac n' Cheese, to "company" food such as Vegetable Blintzes with Mushroom Sauce and Mock Potato Puffs (squash is used). Many of the recipes utilize nut flour and nut butter. Different from other gluten free diets, the SCD eschews "white" gluten free flours such as rice, potato and tapioca. Various squashes are utilized to fill in for potatoes and other starchy side dishes. Certain cheeses are allowed, and Ms. Weiss includes tempting dairy and vegetable souffles and quiches. Although the recipes are gluten free, they do rely heavily on other common allergens such as nuts and eggs. However, this book is geared for those suffering intestinal ailments who could benefit from the Specific Carbohydrate Diet, and not intended as an allergen free cookbook.
The attractive and extensive photographs of the dishes enhance the books greatly, and further the author's assertion that these recipes are not only for the SCD follower, but will be loved by the whole family.
The book also aims to provide concrete guidance for adherents of the SCD in areas such as travel and entertaining, which can be challenging at best for anyone following a special diet. The author also includes a list permissible ingredients for the SCD and helpful menu plans. Overall, the tone of the book is encouraging and supportive.
During busy holiday season, Ms. Weiss suggests making ahead and freezing so you do not feel rushed and unprepared. Unfortunately, many people go off special diets when stressed and harried, and given the option of other "tempting" traditional holiday dishes. With the recipes in
A Taste of Wellness
, such as traditional Hungarian Stuffed Cabbage, Cheese Latkes and Kugel, you can prepare SCD based food for your entire family and I bet they won't even notice it's not made with wheat flour and other verboten ingredients!
L'shanah Tovah u'Metukah....May you be blessed with a sweet and happy new year...and most importantly healthy!
This recipe is festive and appropriate for the Jewish New Year, as it combines apples and honey---both traditionally eaten during Rosh Hashana celebrations.
from A Taste of Wellness by Rochel Weiss, p. 223
4 lbs. (about 12) apples, peeled cored and halved
ground cinnamon for sprinkling
6 large eggs
pinch salt
1 1/2 cups honey
1 cup oil
2 tsp. pure vanilla extract
1/2 tsp. baking soda
4 cups almond flour
1/2 cup ground walnuts (or walnut flour)
plus an extra 1/4 cup for sprinkling
Preheat oven to 325F degrees. Grease a 10x16x2 inch baking pan.
Cut apples into 1/4-inch thick slices and spread evenly in prepared pan. Sprinkle apples with cinnamon.
Beat eggs with salt in a stand mixer on high speed until light and fluffy.
Gradually add honey and continue beating on high speed for another 3 minutes until light.
Add oil and vanilla extract and mix until well blended.
Gently fold in baking soda, almond flour and 1/2 cup ground walnuts. Mix to combine.
Pour batter evenly over apples. Sprinkle remaining 1/4 cup walnut son top.
Bake uncovered for 1 1 /2 hours. When done, top of kugel will spring back when lightly touched with fingertips.
Serve hot or cold
Yield: 16 servings
Note: This is not meant to recommend any particular diet for specific medical conditions. Consult with your doctor regarding appropriate diets for any medical condition.